How SolarTrak Tracks Equipment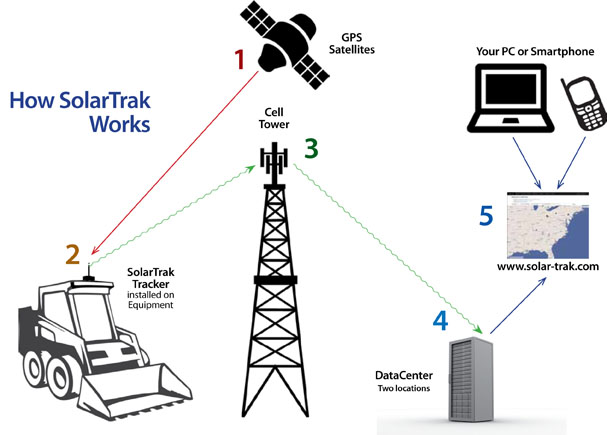 The SolarTrak fleet tracking system is designed by our software, mechanical and electrical engineers to be cutting-edge, efficient and secure. Once you've installed the Trackers and assigned them to specific equipment, you're ready to track, monitor and manage your assets.
Here's how SolarTrak works:
STEP 1: Grab the Signal
The tracker receives signals from a network of satellites using a GPS chip embedded in the tracker. Be sure the tracker has clear access to the sky for the best reception so the unit's position can be recorded on the tracker's circuit board.
STEP 2: SolarTrak Reports data
The antenna (internal or external) receives the signal and gathers data (location, battery voltage, etc.), then encrypts the data.
STEP 3: Transport the Data
The data is sent via cellular connection (using the internal modem) to the nearest cell tower.
STEP 4: Unscramble the Encryption
The cell tower forwards the data to SolarTrak's secure redundant servers, where it is unencrypted, analyzed and uploaded to your account.
STEP 5: Ready to View
Login with your unique password, using your pc, laptop or mobile device, to access your account online and view the data.
---
Call 1-484-223-4994 to request a live demo and see SolarTrak in action before you buy.
You can also read what our customers are saying here.