Frequently Asked Questions
How SolarTrak Will Make Your Life Easier
Using SolarTrak helps in many ways, but can be summarized into two main benefits:
Enhances the use of your fleet: SolarTrak makes your job easier by giving you constant status updates on your fleet- on Location, Battery voltage and Engine-Hours.
Enhances revenue from your fleet: SolarTrak can boost revenue by extending the life of your equipment using Maintenance Reminders, and by ensuring that every rental dollar is collected using Engine-Hours.
Our current construction and rental house customers install trackers on all kinds of equipment, including:
air compressors
aerial work platforms
backhoes
skid steers
boom lifts
camera towers
cranes
delivery vans
dump trucks
excavators
flatbeds
forklifts
generators
light towers
pickups
rollers
Scissor lifts
skid steers
shovels
sweepers
tele-handlers
utility vans and trucks
trailers
water pumps
…any valuable piece of construction or other equipment that you'd like to track. Get creative. We have a customer that installed trackers on their zero-turn lawn mowers.
Use our Cost Calculator.  In it, we present 10 simple questions for you to consider… including the size and age of your fleet, the geographic size of your service area, and questions about your billing and repair procedures.
Its a quick way to understand all the ways you'll save both time and money using a GPS-based fleet management solution.
How SolarTrak Works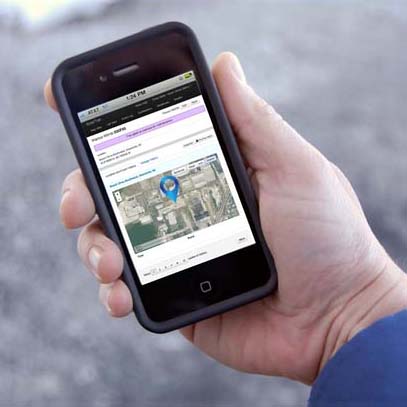 One of the strengths of SolarTrak is that you can choose which notifications you receive, how often, and by what method (text or email). Notifications are available for 14 different options, including:
Equipment Starts, Moves or Stops
Battery Voltage
Equipment Enters or Leaves a Geofence
Tracker Power is Interrupted
Engine Starts or Stops
Maintenance Due
So far, we have not reached the outer limit number of trackers that can be used at one time. For your own ease, if you have hundreds of trackers, it may be easier for you to organize them into groups and categories, or designate them by branch offices. You can even assign other staff members to manage certain machines.
Technical Questions
Just Curious Questions
SolarTrak trackers are made from a rugged polycarbonate and are magnetically or screw-mounted to your equipment. They are small enough to mount in small, hidden spaces.
In the event of tampering, SolarTrak trackers are built to report data back to the fleet manager even after an attempted theft. For instance, if a would-be thief tried to cut the wires on the tracker, internal batteries would continue transmitting data for up to 72 hours.
Insurance companies like when companies install a GPS fleet tracker on their equipment because they can discourage (but not prevent) thieves. Even better, they can make retrieving equipment easier. For a definite answer, contact your insurance company.
HAVE A QUESTION? We have the answer!
Fill out the form below or
Call us at 484-223-4994 or call your SolarTrak rep.