We here at SolarTrak are so excited to announce the addition of not one but TWO Regional Sales Managers to our team!
Ryan Mitchell joins us as the Regional Sales Manager – Midwest. He brings with him over a decade of sales experience in the electrical and electronic manufacturing industry, working closely with contractors and construction companies.
In his spare time, Ryan enjoys golfing and playing an occasional game of baseball. Fun fact, Ryan played college baseball for Kent State!
Located in the Midwest? Contact Ryan at rmitchell@solartechnology.com, as well as 484-735-4531, to schedule a visit or free demo.
We are equally as excited to welcome Chris Kennedy to the SolarTrak fold. He joins us as the Regional Sales Manager – Southeast. Chris comes to us with an extensive sales background in fleet tracking devices for low speed vehicles.
On the weekends you can catch Chris cruising the Gulf on his boat with his wife and two dogs.
If your company is in the southeast, Chris is your guy! To set up a visit or free demo, contact Chris at ckennedy@solartechnology.com and 484-425-0790.
Ed O'Donnell, V.P., Sales for SolarTrak, on our sales team expansion: "I am excited to welcome these two seasoned sales professionals to the SolarTrak Team. Their depth of knowledge and industry experience will make them invaluable to the customers they support."
We love spreading the word about how great SolarTrak's products are… and we love it even more when we hear success stories from our customers!
Take a look at what Springer Equipment has to say about our products:
"We've used the SolarTrak product on our rental equipment for over a year and we love it!
The entire process has been a breeze. From ordering the product, to installation on our equipment, to implementation in daily operations.
The website interface is so easy to use, fully customizable, and I can get accurate information in a flash.
On each of our rentals that uses the product, we've not had a single failure.
This quality product has streamlined our business, and helped to save both time and money.
I would recommend this product to everyone that wants to keep track of their equipment.
Thank you to the SolarTrak team." – Jordan Schoenfeld, Springer Equipment

Another happy customer, saving time and money with SolarTrak products. Call us at 484-223-4994 and let us help you choose the right product!
AEMP 2.0 – ISO 15143-3:2020 UPDATE
The next generation AEMP 2.0 Telematics Standard/ISO Technical Standard 15143-3:2020 is now available on SolarTrak!
ADMIN users of SolarTrak will access this information from either the asset page (individual asset), or by visiting the Public API page located in the user dropdown menu.
Where to look:
| | |
| --- | --- |
| Assset Page | Public API Page |
| | |
On an individual asset's API page, the user will be able to view a general snapshot of the asset's current status, or select a specific time range to be reported. The equipment status will be provided in XML format, in compliance with the ISO Standard for AEMP 2.0.
Individual Asset API Subpage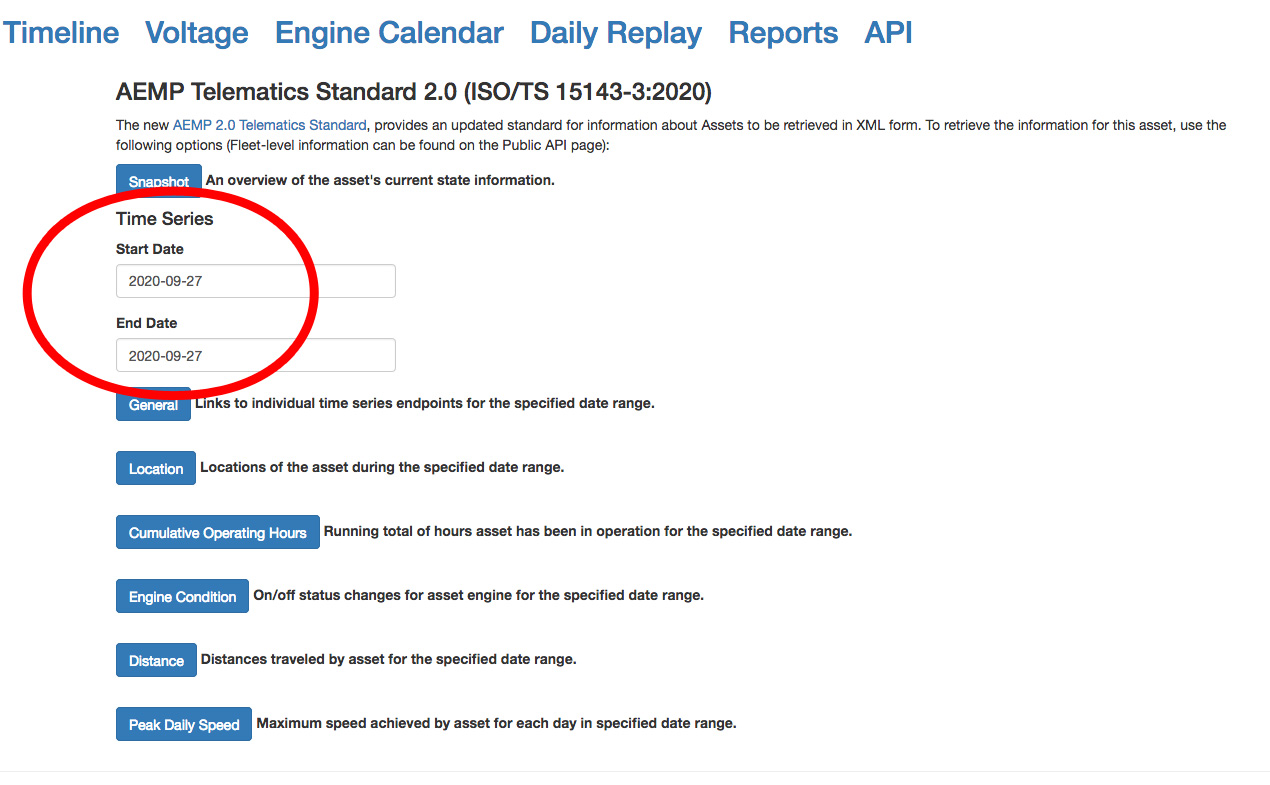 The XML data will provide a snapshot of the following information:
Location
Cumulative Operating Hours
Engine Status (if asset's model is listed as having an engine)
Distance (if asset is flagged as a vehicle)
Peak Daily Speed (if asset is flagged as a vehicle)
The XML data can also be imported into your CRM, ERP, or SCMS!
We partner with third party rental software platforms – contact us at 484-223-4994 or info@solar-trak.com to see how we can help you with your integration!