Here's a great story from one of SolarTrak's customers in Brooklyn, NY:
Power House Generators of Brooklyn had a rented CPG 120 Generator parked at a nursing home. After dark, thieves removed the bolts and hauled the generator from Port Chester to the Bronx.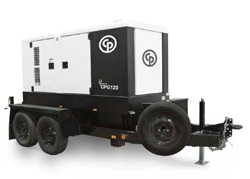 The next morning, the nursing home manager called and asked why they removed the generator. Using SolarTrak, they were able to see when the generator left (8:20 pm), the route it traveled, and where (at 9:30 pm) it was parked in the Bronx.
Even though the thieves cut off and discarded the tracker and ripped out the battery charger, the route and final destination was recorded. PH Generators sent their men, along with the police, to the warehouse in the Bronx, where they found the thieves and the generator.
The generator, worth $40,000, was returned, intact and in working condition.
"They hauled the generator about 20 miles to a warehouse deep in the Bronx," reported Shloime Bochner of PH Generators. "Without SolarTrak, the equipment would have been a total loss. All our generators now have stickers saying they are protected by GPS trackers. We can definitely recommend SolarTrak trackers."
See for yourself why our customers love SolarTrak GPS trackers. Ask for a free demo by calling 484-223-4994.
SolarTrak exhibited at the ARA's The Rental Show in New Orleans in February, and we were happy to see so many of our customers and meet many customers-to-be!
We invited the attendees to enter our contest to win an Amazon Echo – and here are the winners:
Michael McCall from Ram Rent-All in Goldsboro, NC
Nick Vester from Fox Rental in Grapevine, Texas.
Congratulations to the winners! It was a pleasure meeting everyone, and if you have any further questions, or would like to schedule a FREE Demo, please call us at 484-223-4994.
Yes, our company is growing… in the best way! We've had two additions to the SolarTrak family since Dec. 25.
Charlie Bland Chellel arrived Christmas Day to Sarah and Andrew Chellel, weighing 6 lbs 10 oz and 21 inches long. Charlie is Andrew and Sarah's first child, and lives in Newnan, GA. Andrew is the SolarTrak Regional Sales Manager serving southeastern USA.
Mike Wimmer and wife Leigh welcomed Mollie Anne Wimmer on January 27, 2018. Mollie joins older brother Morgan (age 2) and big sister Izzy (age 4) in their home in Macungie, PA. Mike is the head of SolarTrak's service team, responsible for tech support and installations.
Congratulations to both families, and welcome to the SolarTrak family!