Time marches on and, as everyone with a smartphone knows, certain cellular providers are planning to phase out 3G. Anticipating the switch, SolarTech has moved to a brand-new 4G platform to take advantage of the newer, faster, more efficient data network.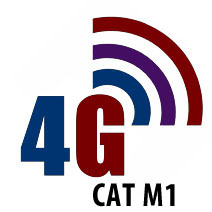 This platform is not the 4G LTE system used by individual cell phone users. This 4G CAT M1 system is specifically dedicated for M2M (machine to machine) traffic. Social media users – and their voice, texts, gaming and video-downloading – will no longer slow and clog the network.
In May 2018, SolarTrak began shipping the new upgraded 4G version trackers. You will notice a new upgraded antenna for screw-mount installations, otherwise, the tracker looks identical.
Have no fear, current SolarTrak customers: Your 3G models will continue to operate for years.
Taking advantage of emerging technology: another way SolarTrak is keeping our customers ahead of the crowd.
Be certain your equipment is ready to track
We've signed up so many customers – big and small, local and national, chains and mom and pops – and found that successful installations can be complicated by all kinds of factors:
Our most successful customers have equipment that is virtually never free for a day. If it's always out on a project, it's hard to schedule an installation time.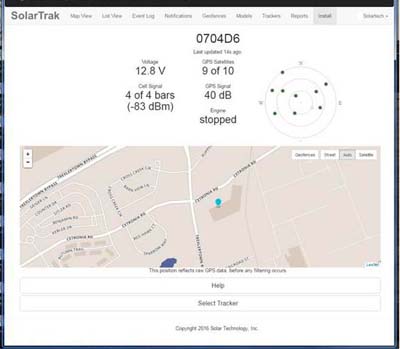 In smaller companies, there may not be a dedicated service and repair staff, meaning you need to wait until both the equipment and Joe (the man with the tools) are available.
One way SolarTrak makes installations easy is by providing a simple and quick way for you to check your work – using the free Check Install App.
The app can be downloaded at app.solar-trak.com.
To check their work, the installer simply enters the serial number of the tracker, and the app tells the installer if the tracker has power and if the cellular connection is complete.
One the installation is verified, the app shows the location of the equipment on a map, battery voltage, and the strength of the cellular connection and GPS connections. You're ready to go!
Need more help? Visit our video training page. Download or ask for a copy of our Complete Installation Guide – with photos of actual installs on the most common construction equipment.
We want your installation to work, so you can start taking advantage of all the other great ways SolarTrak will save you time and money.
You asked and we are delivering… SolarTrak just added a mileage tracking option with IFTA fuel tax compliance functions.
Now you can track vehicle mileage or use the "Replay a Day" function and check speed at any point on the trip. Your repair crew will love the ability to get maintenance reminders based on mileage.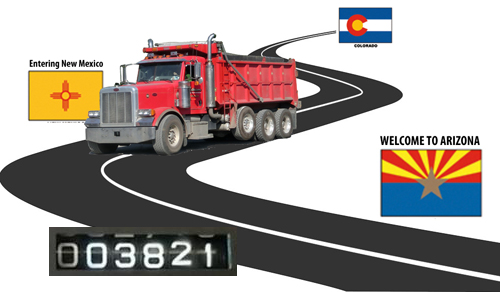 Plus, get a "Mileage by State" report for easy compliance to IFTA Fuel Tax reporting requirements. It shows each piece of equipment and the mileage it traveled in each state, making it easy to calculate fuel taxes.
For customers with mixed vehicle and equipment fleets, we've priced the license separately so you can add the Mileage option to only the vehicles that need this function.
The price? For those renting trackers, its $2.50 per month per tracker. If you buy a tracker, add $150. Quite affordable. Super useful.
Talk to your SolarTrak rep about adding the Mileage feature. No sales rep? No problem. Call 484-223-4994, and we can fix that, too.