Bad Customer, Stolen Equipment… read how it Ends!
One of our customers in Arkansas really made our day by retelling this tale:
A customer came in and rented a mini-excavator with a trailer for the day. At the end of the day, he called and asked to extend the rental for a week. The rental house said yes, just come in and sign the paperwork and pay for the extension.
No word from the customer. The rental house called, repeatedly, but the phone went unanswered. Luckily, the excavator had a SolarTrak tracker. For days they watched as it moved from site to site.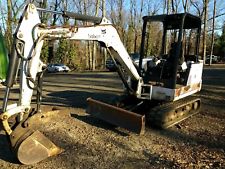 We'll let the owner of the rental center continue:
"With the tracker, we were able to go pick it up. We were grateful for that tracker. It was found in a small rural community two hours from our center, in a part of the country I've never been to, parked in a lot off the highway."
"As far as we know, the thief still doesn't know we reclaimed it."
Since they have reported the matter to the police and will be recouping the nearly 20 hours he used the equipment in the week it was missing, they've asked to remain anonymous. But we are having fun imagining the thief going to his remote hiding spot and discovering it gone.
Just shows that, thanks to SolarTrak, the good guys had the advantage. Not only was a $20,000 piece of equipment recovered, they will also be able to prove when it was used and get the rental fees back.
Discover other benefits to using SolarTrak. Call 484-223-4994 for the sales rep nearest you.