New Feature! Geofence Scheduling
August 19, 2015 | Posted in Geofences
Geofence Timed Notification Feature Added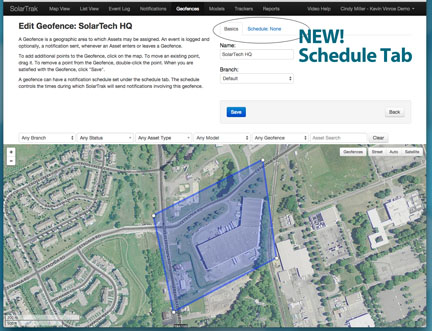 This new feature can be found on the Geofence tab of SolarTrak. Here you can click on the "edit" button of an existing Geofence and in the upper right hand corner of the page you will see a "basics tab" and "schedule tab".
Choose "schedule" to set the time parameters for notification based on your preferences.
First choose the "time zone" in which you operate, next based on the days of the week you may hit the drop down arrow and pick from 1 or 4 choices:
Notify Always
Notify During
Suppress During
Suppress Always
Choose the best one for you needs and  then choose the corresponding times that will appear immediately to the right. You can repeat this for each day of the week.
You can set this schedule right from the start when creating the Geofence by choosing the "schedule" tab and following the same instructions as above.
As always, if you should have any questions, call SolarTrak Support at 800-475-5442.