Solar Technology, Inc., SolarTrak's Parent Company, Celebrates their 25th Anniversary as Traffic Safety Innovators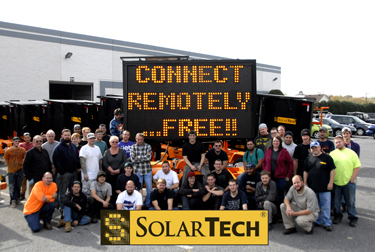 In the world of technological innovation, being 25 years old qualifies us as sages. However, the advantage of years of engineering experience (and a few patents!) is that we have the experience and background to envision, create and support SolarTrak! Read on to learn more about SolarTrak's parent company…
What began as a start-up in the garage of a rented house in Allentown, PA has now grown to a worldwide supplier of traffic safety signs. Solar Technology, Inc., a manufacturer of solar-powered LED signs in Allentown, PA, is celebrating their 25th Anniversary in February.
In 1991, founder Byron Zerphy looked at the noisy, polluting diesel-powered arrow boards in construction zones and knew there must be a better way. He developed arrow boards powered by solar panels that required no fuel, little maintenance, and were quiet and clean. Today, recognized as innovators in the industry, SolarTech holds patents on much of the changeable message board technology, and is run by Byron's son Eric and his wife Sabrina.
The company has also created SolarTrak; an advanced GPS telematics fleet management solution that allows fleet managers to track, monitor and manage construction and rental equipment online.
Much has changed in the past 25 years. Long-time employee Gary Laudenslager, Customer Service Manager, explains:
"Before digital cellular service, we used to communicate with message boards using analog modems. To change a message, you dialed in using a phone line. It crackled and buzzed like a fax line, and the "call" was frequently dropped."
Today the company uses a combination of GPS chips, modems and satellites to make, track and communicate with safety safety signs like Message Boards, Arrow Boards, Radar Speed signs and Camera and Light Towers.
SolarTech is the only company to offer a 5 year Bumper-to-Bumper Warranty in the industry and has been an IOS 9001:2008-certified manufacturer since 2004. The company looks forward to the next 25 years of growth and innovation.