NEW! Improved Waterproof Connector for Easier Installation
As our GPS fleet tracking system grows, we're finding ways to make it even easier to install our SolarTrak trackers. We have now eliminated the need for you to install the fuse (it comes already loaded), and made it easier to install the wiring as well as to move trackers from one machine to another.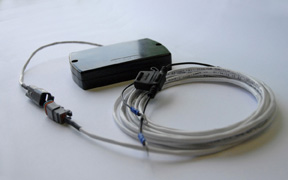 Our new waterproof connector separates the tracker installation from the battery install, allowing you to complete each task, then simply snap the two sections together…. easier!
As more and more trackers are installed, we get feedback from many of our valued customers. We listen, and design improvements. Our goal is to make tracking your construction and rental equipment affordable, economical and easy!
Not yet using SolarTrak? See for yourself how it works. Call 484-223-4994 and ask for a FREE demo (scheduled at your convenience – no obligation).