Here's How: Download our Complete Installation Guide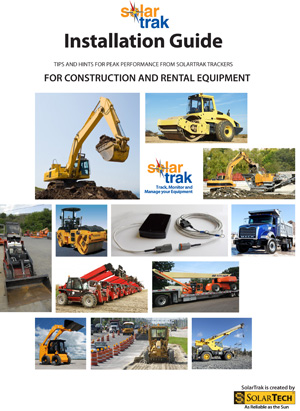 Have SolarTrak Trackers ready to install on a variety of rental or construction equipment? Congratulations! You've made a wise decision… the sooner you complete the installs, the faster you'll have valuable info from your GPS fleet trackers.
Not sure how to proceed? We've installed hundreds of Trackers, so we're pretty confident this Complete Installation Guide can help. In it you'll find pages of photos showing installations on forklifts, trucks, air compressors, boom lifts, shovels, scissor lifts, skid steers and other equipment. We've included examples of Trackers with both internal and external antennas.
Download this PDF by clicking on the cover. If you still have questions, call us at 484-223-4994, and ask for the SolarTrak Support Team.
Don't forget: once you've installed the Trackers, you can quickly check your install in the field by using our free App – available for both Apple and Android.