We currently have a customer (no, not sharing the name) who has hundreds of trackers installed and in use on their large construction rental fleet.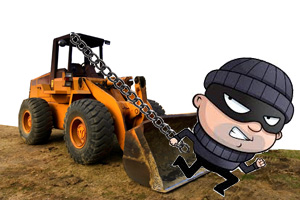 A piece of equipment went into their shop for maintenance on a Thursday. While there, the repair crew disconnected the tracker in order to do some welding. When the repairs were completed, the truck went back into the yard without the tracker reconnected, and was promptly rented.
Then it was stolen over the weekend.
We got an urgent call, asking if the tracker could be activated remotely. There is an internal battery in each tracker that continues to report location for as long as 72 hours, even if the wires are cut or disconnected. Unfortunately, too much time had elapsed from the time it entered the shop until the theft was discovered.
As POTUS would say: "Sad."
SolarTrak's main purpose is "fleet management" not theft deterrent, but in the past our trackers have helped recover stolen equipment. Another SolarTrak user's rental customer reported a skid steer stolen, and the SolarTrak GPS system showed it hidden in an out building on the customer's property.
Remember this cautionary tale, and be sure to reconnect trackers after servicing for uninterrupted GPS tracking – and possible theft recovery.