#1 Most Helpful Support Tip: Use the Install Check App
Be certain your equipment is ready to track
We've signed up so many customers – big and small, local and national, chains and mom and pops – and found that successful installations can be complicated by all kinds of factors:
Our most successful customers have equipment that is virtually never free for a day. If it's always out on a project, it's hard to schedule an installation time.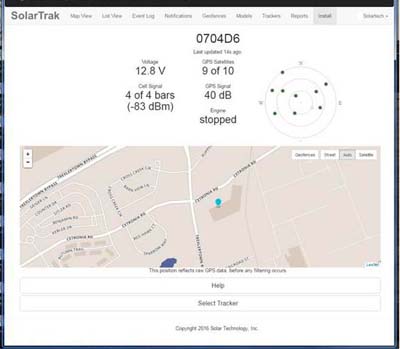 In smaller companies, there may not be a dedicated service and repair staff, meaning you need to wait until both the equipment and Joe (the man with the tools) are available.
One way SolarTrak makes installations easy is by providing a simple and quick way for you to check your work – using the free Check Install App.
The app can be downloaded at app.solar-trak.com.
To check their work, the installer simply enters the serial number of the tracker, and the app tells the installer if the tracker has power and if the cellular connection is complete.
One the installation is verified, the app shows the location of the equipment on a map, battery voltage, and the strength of the cellular connection and GPS connections. You're ready to go!
Need more help? Visit our video training page. Download or ask for a copy of our Complete Installation Guide – with photos of actual installs on the most common construction equipment.
We want your installation to work, so you can start taking advantage of all the other great ways SolarTrak will save you time and money.