Tracker leads Police to Arrow – Stolen from Houston Barricade
In February of 2019, Houston Barricade & Supply leased one of their arrow boards to a long-term customer.  Houston Barricade's fleet is equipped with SolarTrak telematics trackers and the fleet is monitored daily.  The arrow board in question was stored in a location out of the norm and flagged the attention of Houston Barricade's President, James Suggs. He called his lease customer and they confirmed the arrow board had been stolen.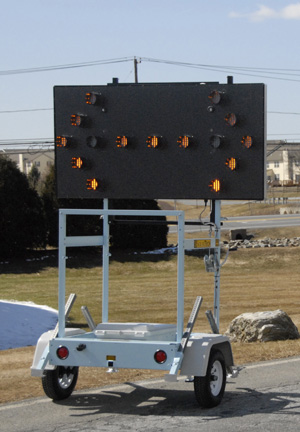 Mr. Suggs then called the Houston Police Department and explained the situation and was able to give the police the exact location of the stolen equipment.
When the police went to the physical location, they found the board had been painted with colors and logos matching the other equipment in the yard. The thieves had removed the arrow board's serial numbers.  Houston Barricade was able to reclaim their equipment with the tracker serial number shown in the SolarTrak system.
Houston Barricade & Supply was an early adopter of SolarTrak Fleet Management, and SolarTrak is pleased that the sign was found and reclaimed so quickly.
This success story could be yours, too. Call 484-223-4994 and talk to our reps about how SolarTrak can help not only protect, but also manage your fleet.