SolarTrak recommends installing Trackers with a clear view of the sky for optimal satellite reception. Mike Wimmer, our SolarTrak Support Team Leader, has seen a few…. well, let's say LESS than desirable installation sites, and shares them here for you to consider.
Don't install trackers on moving parts, like the top of a dump truck.
Don't install trackers on sides or rears of equipment, spots where they are likely to be bumped.
Don't install trackers on or near doors that are likely to be slammed, thus jarring the trackers.
One more tip from our installation expert: If you have excess cord, wrap if LOOSELY around the tracker itself for best satellite reception. Any questions, any time… feel free to call the SolarTrak Support Team at 1-484-223-4994.
Partnership Brings GPS Technology to over 7,000 Construction Equipment Rental Companies to Improve Fleet Management

November 10, 2015 – Irvine, CA – BigRentz, the world's largest online equipment rental network, today announced their partnership and technology integration with Solar Technology, Inc. (SolarTech) a leading manufacturer of telematics fleet management services. This partnership provides BigRentz's network (over 7,000 construction equipment yards across the United States and Canada) with advanced GPS tracking using the SolarTrak telematics fleet management solution, allowing them to track, monitor, and manage their fleet.
The BigRentz and Solar Tech integration delivers a seamless management and security solution to construction equipment owners. The solution includes SolarTrak, a GPS tracker providing fleet managers with accurate satellite data on location of their equipment in the field. In addition to location, the tracker records engine hours for efficient billing and maintenance purposes, Geofencing capabilities, along with battery voltage monitoring, all of which managers can easily and securely access from their desktop or smartphone.
"Partnering with Solar Tech is the first step in bringing industry-changing technology to equipment rental," said Dallas Imbimbo, Co-founder and CEO of BigRentz. "We believe this integration is a perfect fit for our network because it offers our suppliers a state-of-the-art way to manage their fleet as business with BigRentz increases their rentals."
"Solar Technology is excited to partner with BigRentz, lending our efficiency boosting technology to enable Big Rentz to better serve their customers and their supplier partners", said Ed O'Donnell, VP of Sales and Business Development for SolarTrak. The SolarTrak solution will allow the many Big Rentz supplier partners (construction equipment yards) across the country to more effectively manage their fleet of equipment while increasing their business opportunities from Big Rentz.
Geofence Timed Notification Feature Added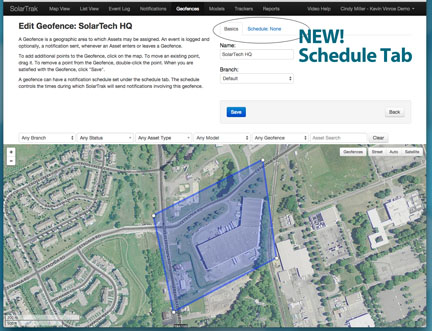 This new feature can be found on the Geofence tab of SolarTrak. Here you can click on the "edit" button of an existing Geofence and in the upper right hand corner of the page you will see a "basics tab" and "schedule tab".
Choose "schedule" to set the time parameters for notification based on your preferences.
First choose the "time zone" in which you operate, next based on the days of the week you may hit the drop down arrow and pick from 1 or 4 choices:
Notify Always
Notify During
Suppress During
Suppress Always
Choose the best one for you needs and  then choose the corresponding times that will appear immediately to the right. You can repeat this for each day of the week.
You can set this schedule right from the start when creating the Geofence by choosing the "schedule" tab and following the same instructions as above.
As always, if you should have any questions, call SolarTrak Support at 800-475-5442.