We currently have a customer (no, not sharing the name) who has hundreds of trackers installed and in use on their large construction rental fleet.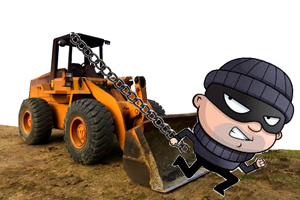 A piece of equipment went into their shop for maintenance on a Thursday. While there, the repair crew disconnected the tracker in order to do some welding. When the repairs were completed, the truck went back into the yard without the tracker reconnected, and was promptly rented.
Then it was stolen over the weekend.
We got an urgent call, asking if the tracker could be activated remotely. There is an internal battery in each tracker that continues to report location for as long as 72 hours, even if the wires are cut or disconnected. Unfortunately, too much time had elapsed from the time it entered the shop until the theft was discovered.
As POTUS would say: "Sad."
SolarTrak's main purpose is "fleet management" not theft deterrent, but in the past our trackers have helped recover stolen equipment. Another SolarTrak user's rental customer reported a skid steer stolen, and the SolarTrak GPS system showed it hidden in an out building on the customer's property.
Remember this cautionary tale, and be sure to reconnect trackers after servicing for uninterrupted GPS tracking – and possible theft recovery.
SolarTrak announced their expansion into southeastern US with the addition of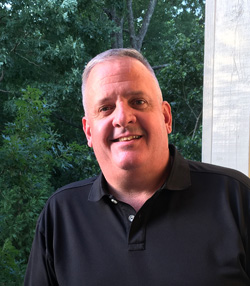 Andrew Chellel as SE Regional Sales Manager.
Chellel was hired to expand SolarTrak's double-digit growth in states from South Carolina through Florida, and follows a recent upgrade to the software and addition of new features such as the Maintenance Required Report and release of the Check Install app.
A seasoned sales and marketing executive, Chellel has prior experience as regional sales manager for multiple national beverage companies, and is familiar with fleet management from working with delivery fleets.
"My strengths lie in building customer relationships and understanding the importance of customer service" Andrew stated. "That, plus sales experience since 1997, makes me confident that I can bring the SolarTrak product to this market successfully."
Ed O'Donnell, V.P., Sales for SolarTrak, says of Chellel: "I've known Andrew from the beer business for many years.  He is a true sales professional.  He has excelled in achieving his sales goals both personally or by managing sales teams.  He is a strong addition to our team."
Is your company in the southeast? Give Andrew a call at 484-714-6134. He'll be happy to visit, or set up a free SolarTrak demo
When comparing GPS tracking products, make sure to compare apples to apples, not apples to oranges.

If you Google "GPS Trackers", its likely that you'll run into Vehicle Trackers – designed for cars or for fleet delivery trucks. You'll know, because their emphasis will be on in-transit data and driver's behavior: idles times, speed, stops … did the driver stop for donuts and obey speed limits?
If you are a construction contractor or rental house specializing in workzone equipment, you'll want a GPS tracker designed specifically for construction equipment – SolarTrak. SolarTrak understands how construction and rental fleets are organized and run, and our data reflects that. SolarTrak will tell you:
GPS or Street location – even if the equipment is parked in a workzone in the middle of a field
Engine-Hours – SolarTrak records engine run times for an accurate record for billing.
Battery Voltage Status – anticipate problems before they occur by tracking the battery voltage
Maintenance Reminders – Keep your fleet healthy by never missing routine maintenance or inspections
Geofence – Establish boundaries around a worksite or your yard; get alerted to movements in and out
Don't pay for more data than you need. Most vehicle trackers cost in the $20 to $40 range per month. SolarTrak is under $10 per month per tracker, and offers no contract rent or buy options.
See for yourself by calling to arrange an online demo: 484-223-4994. And get the right GPS tracker for your construction equipment – SolarTrak.